This Official WestVirginia WV Roadside Memorial Registry page will allow you to register, plot, pin point and pay tribute to your loved one(s) Roadside Memorial for the State of West Virginia WV. The regulation, rules, laws, policy, procedures and or guidelines etc information provided below for the West Virginia WV State Roadside Memorials is ever changing and we will do our best to maintain this information for you. If you have new or updated regulation information that we have not posted, please let us know HERE.
West Virginia WV State Flag & Roadside Memorial Sign Program Policy, laws and regulations.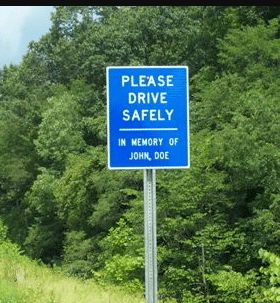 This is an example of one of the West Virginia WV Roadside Memorial sign program signs.
West Virginia WV Roadside Memorials Sign Program
Approximately 400 people die annually as a result of crashes on West Virginia's highways. To address the problem, the West Virginia Division of Highways has partnered with the State's highway safety partners to develop a Strategic Highway Safety Plan to reduce highway-related fatalities and injuries.  West Virginia WV Roadside Memorials.  West Virginia has established a goal of "Zero Fatalities…Saving One Life at a Time".  Additional information on West Virginia's efforts to reduce fatalities on state highways can be found by viewing the West Virginia Strategic Highway Safety Plan. 
To help memorialize loved ones killed in vehicular crashes, and remind motorist to drive safely, the Division of Highways has established guidelines to erect and maintain West Virginia WV Roadside Memorial Signs.  The Roadside Memorial Sign is an official sign that is provided and placed by the Division of Highways, and is installed as close as possible to the site where a fatal motor vehicle crash occurred. The West Virginia WV Roadside memorial consists of white lettering on a blue background, and contains 1 of 3 messages chosen by the applicant followed by the name of the deceased: 
"Please Drive Safely" – available for all victims of highway fatalities
"Please Buckle Up" – available for highway fatalities where victim was not wearing a seat belt.
"Don't Drink and Drive" – available for victims of a vehicular crash involving alcohol or drugs. 
View an example of a Roadside Memorial Sign.
Roadside Memorial Signs may be requested within 3 years following the date of a fatal motor vehicle crash by a member of the immediate family of the victim.  Only one sign will be permitted per victim and the sign may memorialize more than one victim. If application is approved, the applicant will be informed in writing of the decision along with an invoice for $200 that compensates the Division for its review of the application, the installation of the roadside memorial sign and its maintenance for a period of 3 years from the date of installation.  Upon receipt of the non-refundable payment, the Division shall manufacture and install the sign, and shall notify the applicant in writing when the sign has been installed.  The applicant may make a second, optional payment of $200 to extend the display and maintenance of the sign for an additional 3 years.  At the end of the initial or renewal period, whichever comes later, the sign will be removed and offered to the applicant. 
Please note that Roadside Memorial Signs are not permitted for persons whose wrongful conduct was the proximate cause of the crash.  If the Division's review discloses clear and convincing evidence that the crash resulted from the commission of a serious traffic offense as defined in the West Virginia Code, Section 17C-5-1 et seq.,  or from the use of a vehicle in the commission of a felony, or from flight from police, the Division will deny the application and inform applicant in writing.   
Applications for memorial signs are available by contacting the Traffic Engineering Division at (304) 558-3063, the address below, or by downloading the application form from this site.  Please return completed applications to:
Roadside Memorial Sign Program
WVDOH, Traffic Division
Building 5, Room A-550
1900 Kanawha Blvd, E
Charleston, West Virginia 25305-0430
For more information on the Legislative Rules governing Roadside Memorials, please click on the following link: Excerpts from West Virginia Code
West Virginia WV Roadside Memorials Questions:
Are Virginia WV Roadside Memorials legal?
Should Virginia WV Roadside Memorials be allowed?
Who removed my Virginia WV Roadside Memorial?
Do Virginia WV Roadside Memorials cause safety issues and concerns?
Are Virginia WV Roadside Memorials distracting?
Virginia WV Roadside Memorial Controversy?
Should Roadside Memorials be banned in Virginia WV?
What are the Virginia WV State Rules or Laws for Roadside Memorials?
Does Virginia WV have Roadside Memorial programs?
Can I make a permanent Roadside Memorial in Virginia WV?
Can I put a Roadside Memorial on Private Property in Virginia WV?
How much do Virginia WV Roadside Memorial permits cost?
In Virginia WV, how long do Roadside Memorial permits last?
Do Virginia WV Roadside Memorials distract other drivers?
Do Roadside Memorials cause issues in Virginia WV?
Do Virginia WV Roadside Memorials cause Maintenance issues?
Are Roadside Memorials illegal in Virginia WV?
Where do I apply for an Virginia WV Roadside Memorial permit or program?
How do I apply for a Roadside Memorial in my state of Virginia WV?
How To, About, Can I, Where, Rules, Who, How Much Cost, Limits
for my State of Virginia WV to put up a Road Side Memorial?