This Official New Hampshire NH Roadside Memorial Registry page will allow you to register, plot, pin point and pay tribute to your loved one(s) Roadside Memorial for the State of New Hampshire NH The regulation, rules, laws, policy, procedures and or guidelines etc information provided below for the New Hampshire NH State Roadside Memorials is ever changing and we will do our best to maintain this information for you.  If you have new or updated regulation information that we have not posted, please let us know HERE.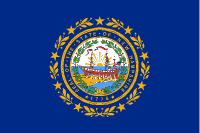 State of New Hampshire NH Flag Roadside Memorials.
Currently, roadside memorials in New Hampshire are not illegal in the state, but New Hampshire Department of Transportation crews typically remove the memorials after six months and new BILL would require them to be removed after 90 days.