This Official Minnesota MN Roadside Memorial Registry page will allow you to register, plot, pin point and pay tribute to your loved one(s) Roadside Memorial for the State of Minnesota MN.  The regulation, rules, laws, policy, procedures and or guidelines etc information provided below for the Minnesota MN State Roadside Memorials is ever changing and we will do our best to maintain this information for you.  If you have new or updated regulation information that we have not posted, please let us know HERE.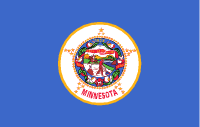 Minnesota MN state flag Roadside Memorial.
Minnesota MN Roadside Memorials for Dakota County
According to a Minnesota DOT Employee, MN state statutes indicate that roadside memorials are not allowed along interstates, U.S. highways or state highways. The state has always tried to be sensitive to family and friends of people who have died in vehicle accidents, giving an unwritten 30-day grace and grieving period before removing the Minnesota MN roadside memorials.
Dakota County Minnesota MN Roadside Memorials
​When a death occurs on a Dakota county highway, the County's practice is to allow a Minnesota roadside memorial to be placed adjacent to the right-of-way line near the death location for up to six months. TheMinnesota Roadside roadside memorial shall be small in size and placed in a location that is acceptable to adjacent property owners. A Roadsidce memorial will not be allowed if it may negatively affect safety, traffic flow, or interferes with routine maintenance such as mowing.
Minnesota MN Roadside Memorials placed longer than six months require a Dakota County permit.
A Minnesota MN Roadside memorial marker may be placed longer than six months with an approved County Obstruction Permit. Obstruction permit fees are waived for memorial marker placements.
Markers may not exceed one square foot in size and must be placed flush with the ground. The placement, replacement and maintenance of a Minnesota MN Roadside memorial marker is the responsibility of the permit holder. The permit request will be reviewed as it relates to safety, parking, bicycle and pedestrian use, maintenance, and other related considerations.
The marker may remain in place until roadway improvements require its removal. At that time, the permit holder will be contacted to recover the marker. If the marker is not removed by the permit holder, the Roadside Memorial Minnesota MN marker will be removed by the County.
Minnesota MN Roadside Memorials Questions:
Are Minnesota MN Roadside Memorials legal?
Should Minnesota MN Roadside Memorials be allowed?
Who removed my Minnesota MN Roadside Memorial?
Do Minnesota MN Roadside Memorials cause safety issues and concerns?
Are Minnesota MN Roadside Memorials distracting?
Minnesota MN Roadside Memorial Controversy?
Should Roadside Memorials be banned in Minnesota MN?
What are the Minnesota MN State Rules or Laws for Roadside Memorials?
Does Minnesota MN have Roadside Memorial programs?
Can I make a permanent Roadside Memorial in Minnesota MN?
Can I put a Roadside Memorial on Private Property in Minnesota MN?
How much do Minnesota MN Roadside Memorial permits cost?
In Minnesota MN, how long do Roadside Memorial permits last?
Do Minnesota MN Roadside Memorials distract other drivers?
Do Roadside Memorials cause issues in Minnesota MN?
Do Minnesota MN Roadside Memorials cause Maintenance issues?
Are Roadside Memorials illegal in Minnesota MN?
Where do I apply for an Minnesota MN Roadside Memorial permit or program?
How do I apply for a Roadside Memorial in my state of Minnesota MN?
How To, About, Can I, Where, Rules, Who, How Much Cost, Limits
for my State of Minnesota MN to put up a Roadside Memorial?