This Official Kansas KS Roadside Memorial Registry page will allow you to register, plot, pin point and pay tribute to your loved one(s) Roadside Memorial for the State of Kansas KS.  The regulation, rules, laws, policy, procedures and or guidelines etc information provided below for the Kansas KS State Roadside Memorials is ever changing and we will do our best to maintain this information for you.  If you have new or updated regulation information that we have not posted, please let us know HERE.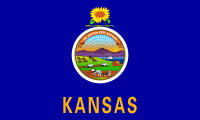 What do I need to apply for a Kansas KS Roadside Memorial Marker Sign Program?
You will need:
Fully completed application
$450 money order/check made payable to KDOT

If you have more than one person who was lost during this crash and you want both of them remembered, an additional $25 fee and application will need to be sent in

Crash report from your loved one's crash
What does the $450 fee for the Kansas KS Roadside Memorial marker sign program cover?
The cost of the marker includes the "Lost to DUI" sign as well as the marker, the post, installation of the marker, as well as 50% of the 10-year maintenance fee.
How do I obtain a crash report for my Kansas KS Roadside Memorial Sign Program?
You can obtain a crash report by requesting it through the reporting agency (police, sheriff's office, etc.) or by going here: Kansas Highway Patrol
How long after the crash am I allowed to request a Kansas KS Roadside Memorial Sign Marker?
The application shall be filled out within one year of the crash. Crashes from January 1, 2011 through July 1, 2016 are exempt from the one year timeframe. This grandfathered time frame will expire on December 31, 2018. After this time frame, all crashes between January 1, 2011 and July 1, 2016 will be ineligible for a marker.
Who can request a Kansas KS Roadside Memorial Sign Marker?
Immediate family members of the victim(s) may request a memorial marker. Immediate family members include: father, mother, child, siblings, grandparent, grandchildren or spouse.
What happens if the Immediate Family can not agree on the placement of the Kansas KS Roadside Memorial Sign Marker?
In the event that a marker is placed and an immediate family member disagrees with the placement of the marker, the marker will be removed. If an application for a marker has been filed and the marker has not yet been placed and an immediate family member requests that the application be denied, the application will be denied and no marker will be placed.
Where will my loved ones Kansas KS Roadside Memorial Sign Marker be placed?
KDOT can only put markers along highways that are under the secretary's jurisdiction, this excludes county roads, city roads and city connecting links. KDOT will make every effort to place the marker closest to the crash location. If KDOT cannot place the marker at the exact crash location due to the crash being in the median, safety concerns, restricted space along the highway, or other constraints. Memorial markers will be installed on the right hand side of the highway which will be determined based off of the victim's vehicle direction of travel at the time of the crash.
My loved ones crash occurred on a county road, can I request a Kansas KS Roadside memorial marker be placed on that road?
No. Unfortunately, the statute only allows KDOT to place the memorial markers on KDOT owned/maintained highways; this specifically excludes county roads or city roads.
Kansas KS Roadside Memorials Questions:
Should Kansas KS Roadside Memorials be allowed?
Who removed my Kansas KS Roadside Memorial?
Do Kansas KS Roadside Memorials cause safety issues and concerns?
Are Kansas KS Roadside Memorials distracting?
Kansas KS Roadside Memorial Controversy?
Should Roadside Memorials be banned in Kansas KS?
What are the Kansas KS State Rules or Laws for Roadside Memorials?
Does Kansas KS have Roadside Memorial programs?
Can I make a permanent Roadside Memorial in Kansas KS?
Can I put a Roadside Memorial on Private Property in Kansas KS?
How much do Kansas KS Roadside Memorial permits cost?
In Kansas KS, how long do Roadside Memorial permits last?
Do Kansas KSRoadside Memorials distract other drivers?
Do Roadside Memorials cause issues in Kansas KS?
Do Kansas KS Roadside Memorials cause Maintenance issues?
Are Roadside Memorials illegal in Kansas KS?
Where do I apply for an Kansas KS Roadside Memorial permit or program?
How do I apply for a Roadside Memorial in my state of Kansas KS?
How To, About, Can I, Where, Rules, Who, How Much Cost, Limits
For my State of Kansas KS to put up a Road Side Memorial?
Are Kansas KS Roadside Memorials legal?