This Official Arizona AZ Roadside Memorial Registry page will allow you to register, plot, pin point and pay tribute to your loved one(s) Roadside Memorial for the State of Arizona AZ.  The regulation, rules, laws, policy, procedures and or guidelines etc information provided below for the AZ Arizona State Roadside Memorials is ever changing and we will do our best to maintain this information for you.  If you have new or updated regulation information that we have not posted, please let us know HERE.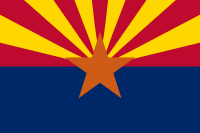 Arizona Roadside Memorials, check below for your ability to install one in the state of Arizona
and what the State of Arizona thinks about Roadside Memorials and or if they have an
official sign program for roadside memorials.
An ADOT policy allows families to place memorial markers along state highways honoring those who have been killed in crashes, but these markers must be approved by ADOT and must meet safety standards for size, materials and placement. Families who already have memorials along highways may either:
keep in place memorials that meet safety standards listed below for size, materials and placement;
or work with ADOT to replace memorials that don't meet safety standards for size, materials and placement.
Who qualifies for or can put up a Roadside Memorial in AZ Arizona
Markers may be placed for traffic-related fatalities that occur on the state highway system (roadways designated as state routes or U.S. highways). A request to place a marker must be submitted to ADOT by the victim's family or a person who has written permission from the victim's family. One marker is allowed per victim.
WHERE CAN MY AZ Arizona ROADSIDE MEMORIAL BE PLACED
Arizona AZ ADOT will consult with those making requests on the exact location of a marker to ensure proper and safe placement.
A Roadside Memorial Tribute marker should be:
as close as possible to the edge of the highway right of way that is farthest away from the road surface, preferably near a utility pole or at the edge of an area that isn't mowed;
and located in a way that doesn't distract motorists.
A Roadside Memorial Tribute marker may not be:
placed in a highway median or between the lanes and frontage road of a controlled-access highway;
located in front of developed property unless the owner of that property gives written permission to the family or its designee;
or affixed to traffic-control devices, signs, signals, light poles, trees, walls, fences or other features.
AZ Arizona ADOT Roadside Memorial Size limits and material usage.
There are limits to the size of markers and to the materials that may be used to create markers.
A Roadside Memorial Tribute marker:
may be no more than 30 inches high and no wider than 18 inches;
may have a foundation no more than 12 inches deep, and that foundation shall not involve concrete or metal footings;
may be fabricated from wood or plastic/composite material;
may include components no larger than 2 inches thick and 4 inches wide;
may include a plaque up to 4
inches by 4 inches and 1/16-inch thick listing the victim's name, date of birth and date of death.
A Roadside Memorial Tribute marker may not include a photograph.
For Families in AZ Arizona that ALREADY have Roadside Memorials erected or built on a Roadside…
Families or their designees should contact the ADOT district office serving that area to find out if an existing memorial meets safety standards for size, materials and placement. A memorial that meets the standards may receive ADOT approval as long as the family provides a contact in case the marker ever has to be moved for a roadway maintenance or construction project.
A memorial that doesn't meet safety standards but doesn't pose an immediate hazard will be marked with a notice that the family has 60 days to remove it. After that period, ADOT personnel will remove the memorial after documenting and photographing the contents and will leave a notice telling family members where the items may be picked up, usually the nearest ADOT maintenance yard. ADOT will store the items for at least 60 days. Families or designees whose memorials must be removed are encouraged to work with the ADOT district office to place an approved marker.
Arizona Roadside Memorials Questions:
Are Arizona Roadside Memorials legal?
Should Arizona Roadside Memorials be allowed?
Who removed my Arizona Roadside Memorial?
Do Arizona Roadside Memorials cause safety issues and concerns?
Are Arizona Roadside Memorials distracting?
Arizona Roadside Memorial Controversy?
Should Roadside Memorials be banned in Arizona?
What are the Arizona State Rules or Laws for Roadside Memorials?
Does Arizona have Roadside Memorial programs?
Can I make a permanent Roadside Memorial in Arizona?
Can I put a Roadside Memorial on Private Property in Arizona?
How much do Arizona Roadside Memorial permits cost?
In Arizona, how long do Roadside Memorial permits last?
Do Arizona Roadside Memorials distract other drivers?
Do Roadside Memorials cause issues in Arizona?
Do Arizona Roadside Memorials cause Maintenance issues?
Are Roadside Memorials illegal in Arizona?
Where do I apply for an Arizona Roadside Memorial permit or program?
How do I apply for a Roadside Memorial in my state of Arizona?
How To, About, Can I, Where, Rules, Who, How Much Cost, Limits
,,,GRRRR for my State of Arizona to put up a Road Side Memorial?