This Official Virginia VA Roadside Memorial Registry page will allow you to register, plot, pin point and pay tribute to your loved one(s) Roadside Memorial for the State of Virginia VA. The regulation, rules, laws, policy, procedures and or guidelines etc information provided below for the Virginia VA State Roadside Memorials is ever changing and we will do our best to maintain this information for you. If you have new or updated regulation information that we have not posted, please let us know HERE.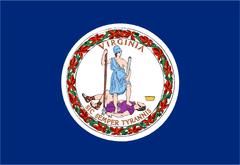 By state law, the entire cost of fabricating and installing such a Virginia Roadside Memorial sign must be paid by the person requesting it.  There may be no deviation from the standard Virginia VA Roadside Memorial sign specifications.

Procedure VDOT will meet with the requester to review and approve the proposed location of the sign. The  be installed within a "clear zone."
The requester will bear the entire cost of the sign. Fabrication and installation of the sign must be per the sign specification. 
When the sign has been fabricated, VDOT will issue a land use permit at no cost for a period of two years.
The sign will not remain on site more than two years. The requestor is responsible for removing the sign, and should contact their localVDOT office at that time. If they do not, VDOT will remove the sign and retain it at the local residency office or area headquarters for 30 days.
For a roadside memorial sign to remain longer than the two-year period, the person who receives the land use permit must write the approving residency maintenance manager requesting a one-year extension. This extension can be repeated in following years.
VDOT participation is limited to identifying the location of the sign and issuing a permit. Requestors should consult with their local VDOT office regarding fabrication and installation.
All memorials shall be erected on the right side of the highway. The right shoulder is larger thus allowing ample room to pull over and install the memorial without interfering with traffic.