This Official Texas TX Roadside Memorial Registry page will allow you to register, plot, pinpoint and pay tribute to your loved one(s) Roadside Memorial for the State of Texas TX. The regulations regarding the creation of tribute sites in Texas change from time to time, so if you know of any changes, please let us know HERE.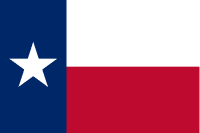 Texas TX State Flag Roadside Memorials, rules, laws, policy & Registry.
The Texas TX Roadside Memorial Sign Programs give family or friends of victims of either motorcycle crashes and of drunk / drugged driving the opportunity to purchase a sign to be placed near the site of a crash.  Each Texas TX Roadside Memorial Sign, bearing the name(s) of the victim(s), serves to commemorate loved ones while raising awareness of these serious issues. 
Please follow this link to learn about all of the laws regarding roadside tributes in the State of Texas:
http://onlinemanuals.txdot.gov/txdotmanuals/use/use.pdf
Thanks to Blanca for sending us that updated link (March, 2023)!