Pet Roadside Memorials for Cats and Dogs. Did your Pet Dog or Cat die from the result of a roadside accident. Did you want to honor and register your pet with the Roadside Memorial Pet Dog and Cat Registry?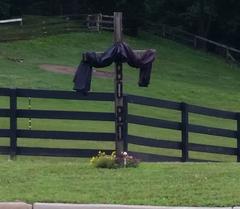 Yes, pet Roadside Memorials exist for cats and or dogs.  This Pet Roadside Memorial pictured above is actually in the town or Montross VA.  BOBO is a dog and you can see that his owner did a very good job erecting this Pet Roadside Memorial for his loving pet Dog.  Now, his dog did not get hit by a car on the roadside, but rather died from old doggie years old.  But his Dentist Owner made and built this pet dog roadside memorial next to his house.  Bobos owner is actually my own local dentist.  If you have an actual pet roadside memorial or want to make one and or post it here, please send us your pet cat or dogs roadside memorial info and we will get it posted up in our Roadside Memorial Registry pages web site free.
There is no state in the USA that will or would ever allow this legally on their roadsides or roadways.  All 50 states barely allow Roadside Memorials for killed real human people let alone cats or dogs.  So with that being said, we at the Roadside Memorial Registry will post and help you document the death of your pet dog or cat and erect your online digital roadside memorial.
We will post your pet cat or dog roadside memorial in with all of the other state Roadside memorials for your specific state. 
We (I)  see way way too many dead and killed pet dog and cats on the sides of roads and it is sad.  As soon as you see that dead or ran over or hit pet cat or dog you know that it belonged to somebody.  What makes it worse is that when you drive by and see that it has a collar on its neck most likely with some kind of identifying tags and home info.
As I write this I saw 3 dead and hit dogs no more than 10 miles from my house over the weekend.  Vultures here are BAD in Virginia and they are VERY quick to get on the dead pet cats or dogs and eat them away.  Yes its just part of the process for them but its usually dead deer, squirrels or opossums and not your neighbours pet dog or cat that had a name. So here in the Roadside Memorial Registry site, you can remember your pet cat or dog with your posted online roadside memorial or your passed away pet.
There are just as many companies for "people" roadside memorials as there are for Pet dog and cat roadside memorials that offer products for you.  These range in cost and quality just like any other grave Stone to basic wooden cross to custom engraved jewelry to full on Caskets and funeral services.  So if you have a Pet dog or cat that had a roadside accident and you want build or construct a Pet Roadside Dog or Cat Roadside Memorial, your choices are endless.  Just a simple search on the internet will get you all of the info that you need to to be able to erect your Pet Dog or Cat Roadside Memorial.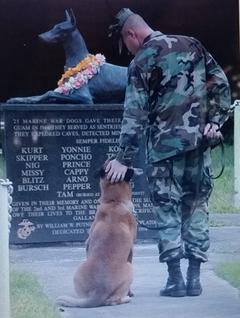 Roadside Memorials for Pet dogs and or cats are not as unusual as you would think. This Service Dog and or Pet Dog when not on "duty" Roadside Memorial on Guam honors the WWII Devil Dogs, 25 Marine dogs specially trained in jungle warfare. It stands by the War Dog Cemetery, where the dogs were all laid to rest in a place of honor after their passing.
Register your Pet Cat Or Dog Roadside Memorial by state here.