This Official Oklahoma OK Roadside Memorial Registry page will allow you to register, plot, pin point and pay tribute to your loved one(s) Roadside Memorial for the State of Oklahoma OK.  The regulation, rules, laws, policy, procedures and or guidelines etc information provided below for the Oklahoma OK State Roadside Memorials is ever changing and we will do our best to maintain this information for you.  If you have new or updated regulation information that we have not posted, please let us know HERE.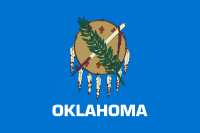 Oklahoma OK State Flag Roadside Memorial Registry and Support page.
Can I put up Roadside Memorials in the State of Oklahoma?
No you may not erect a Roadside Memorial in the State of Oklahoma legally.
It is illegal to place anything on Oklahoma highway rights-of-way, including campaign signs, commercial advertisements or roadside memorials. (69 O.S. ? 1208 (b)) Unauthorized roadsie memorials and or signs can obstruct driver' views at intersections, block highway warning signs, cause damage to vehicles, injure drivers who pull off in emergencies, disrupt ODOT mowing operations and cause litter. Please keep roadsides clear and clean for everyone's safety. You can ask nearby property owners about placing a roadside memorial or sign on their land. You may also contact the local ODOT Field Division for assistance.
Oklahoma OK Roadside Memorials Questions:
Are Oklahoma OK Roadside Memorials legal?
Should Oklahoma OK Roadside Memorials be allowed?
Who removed my Oklahoma OK Roadside Memorial?
Do Oklahoma OK Roadside Memorials cause safety issues and concerns?
Are Oklahoma OK Roadside Memorials distracting?
Oklahoma OK Roadside Memorial Controversy?
Should Roadside Memorials be banned in Oklahoma OK?
What are the Oklahoma OK State Rules or Laws for Roadside Memorials?
Does Oklahoma OK have Roadside Memorial programs?
Can I make a permanent Roadside Memorial in Oklahoma OK?
Can I put a Roadside Memorial on Private Property in Oklahoma OK?
How much do Oklahoma OK Roadside Memorial permits cost?
In Oklahoma OK, how long do Roadside Memorial permits last?
Do Oklahoma OK Roadside Memorials distract other drivers?
Do Roadside Memorials cause issues in Oklahoma OK?
Do Oklahoma OK Roadside Memorials cause Maintenance issues?
Are Roadside Memorials illegal in Oklahoma OK?
Where do I apply for an Oklahoma OK Roadside Memorial permit or program?
How do I apply for a Roadside Memorial in my state of Oklahoma OK?
How To, About, Can I, Where, Rules, Who, How Much Cost, Limits
 for my State of Oklahoma OK to put up a Road Side Memorial?