This Official Montana MT Roadside Memorial Registry page will allow you to register, plot, pin point and pay tribute to your loved one(s) Roadside Memorial for the State of Montana MT. The regulation, rules, laws, policy, procedures and or guidelines etc information provided below for the Montana MT State Roadside Memorials is ever changing and we will do our best to maintain this information for you. If you have new or updated regulation information that we have not posted, please let us know HERE.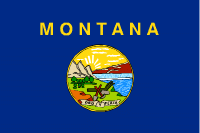 Montana MT State Flag Roadside Memorials
The Montana American Legion White Cross HighwayRoadside Memorial Fatality Marker Program in 1953.
The unique idea of marking fatal traffic accident sites with a white cross was the brainchild of Floyd Eaheart, a member of Hellgate Post #27 in Missoula after 6 lives were lost in that area over the 1952 Labor Day Holiday.  The safety program started out as a county and later district project for the Missoula American Legion Post.  However, the idea was so good that it was soon adopted as a statewide program.  The Montana Highway Commission (now the D.O.T.) approved the program in January 1953 with the blessing of the then 13th governor of Montana, J. Hugo Aronson (the galloping Swede).  E.A. "Gene" King from Livingston was the Department Commander at the time.  Louis Babb was the Assistant Adjutant for the Department of Montana during this time and was instrumental in getting it started.  He appeared before the Montana Highway Commission and convinced them to adopt the White Cross Safety Program.  With this authorization, most of the 132 Montana American Legion Posts participated in the program.  Floyd Earheart, the man who conceived the program, served s the state White Cross Chairman for the first several years.
However, this safety program was not acknowledged in writing until a Letter of Instruction was signed by the then Director of MDOT, David A. Galt on November 5, 2001. In January 2007 the then Director of MDOT, Jim Lynch, was instrumental in getting the American Legion Highway Fatality Marker Program included on the 2007-2008 Official Montana Higway Map. This provided the American Legion with a lot of visibility and publicity. In November 2007, Mr. Lynch approved the construction and installation of 5′ by 13′ highway signs on all 25 highway entrances to Montana. These huge blue and white signs state that the White Marker Program is "maintained" by the American Legion of Montana. It was also in 2007 that the name of the program was changed from the White Cross to the Fatality Marker Program.