This Official Indiana IN Roadside Memorial Registry page will allow you to register, plot, pin point and pay tribute to your loved one(s) Roadside Memorial for the State of Indiana IN. The regulation, rules, laws, policy, procedures and or guidelines etc information provided below for the Indiana IN State Roadside Memorials is ever changing and we will do our best to maintain this information for you. If you have new or updated regulation information that we have not posted, please let us know HERE.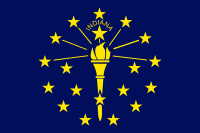 Indiana is no stranger to Roadside Memorials. Unfortunately Indiana does not officially have a Roadside Memorial sign marker tribute program run through the state of Indiana.
Short and sweet,…..Roadside Memorials are NOT ALLOWED in Indiana.
A spokesperson with the Indiana Department Of Transportation stated that Roadside Memorials are not allowed in the state of Indiana.  They also stated that they do not go out of their way to look for them and or take them down as part of their daily agenda or task lists.

NOW,….if there is a legitimate concern dealing with safety or other issues or if the INDOT gets calls or notifications about a specific Roadside Memorial on one of Indiana state roads, they will address it.  This action usually comes with the removal of the Roadside Memorial due to safety issues to other motorists.  Also notification and or contact with the family will try to be made to collect the Roadside Memorial shrine materials.
Indiana has no State Laws or regulations that specifically point at Roadside Memorials and their erection or removal. It is just stated that anything that violates the right of ways can and or will be removed especially if there are issues of safety to other roadway users. Also in the event of roadside maintenance or construction and if the roadside memorial is in the way it will be removed.

Indiana DOT does not encourage the building or placement of Roadside Memorial in the State of Indiana. The state of Indiana is very aware of this practice and is very understanding when it comes to deaths and families and roadside accidents, With that being said, placement of SMALL crosses, flowers, wreaths etc etc off to the side of a roadside are usually not bothered or removed.
Indiana IN Roadside Memorials Questions:
Should Indiana IN Roadside Memorials be allowed?
Who removed my Indiana IN Roadside Memorial?
Do Indiana IN Roadside Memorials cause safety issues and concerns?
Are Indiana IN Roadside Memorials distracting?
Indiana IN Roadside Memorial Controversy?
Should Roadside Memorials be banned in Indiana IN?
What are the Indiana IN State Rules or Laws for Roadside Memorials?
Does Indiana IN have Roadside Memorial programs?
Can I make a permanent Roadside Memorial in Indiana IN?
Can I put a Roadside Memorial on Private Property in Indiana IN?
How much do Indiana IN Roadside Memorial permits cost?
In Indiana IN, how long do Roadside Memorial permits last?
Do Indiana IN Roadside Memorials distract other drivers?
Do Roadside Memorials cause issues in Indiana IN?
Do Indiana IN Roadside Memorials cause Maintenance issues?
Are Roadside Memorials illegal in Indiana IN?
Where do I apply for an Indiana IN Roadside Memorial permit or program?
How do I apply for a Roadside Memorial in my state of Indiana IN?
How To, About, Can I, Where, Rules, Who, How Much Cost, Limits
,,,GRRRR for my State of Indiana IN to put up a Road Side Memorial?
Are Indiana IN Roadside Memorials legal?