This Official Georgia GA Roadside Memorial Registry page will allow you to register, plot, pin point and pay tribute to your loved one(s) Roadside Memorial for the State of Georgia GA.  The regulation, rules, laws, policy, procedures provided below for the Georgia GA State Roadside Memorials is ever changing and we will do our best to maintain this information for you.  If you have new or updated regulation information that we have not posted, please let us know HERE.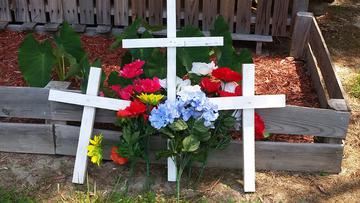 Georgia GA Roadside Memorial Sign Marker Policy
The Georgia Department of Transportation (GDOT) supports the placement of memorial roadside markers within the State Highway rights of way, in accordance with the Official Code of Georgia, Annotated (O.C.G.A.) 32-6-50, to increase public awareness of highway safety and to memorialize people who have died as a result of a vehicle crash.
Link to the Georgia State Procedure for Requesting a roadside tribute:
http://mydocs.dot.ga.gov/info/gdotpubs/Publications/6160-9.pdf
Purpose of Georgia GA Roadside Memorial Sign Marker Policy
The policy is to provide guidance for the application process and the uniform design and placement of memorial roadside markers within the State Highway rights of way.
Scope This policy will primarily affect Maintenance personnel responsible for the construction, placement and maintenance of these memorial roadside markers. The fabrication, installation, maintenance and removal of the memorial marker will be the responsibility of GDOT. Memorial markers will be allowed to remain for a maximum of one (1) year. No other memorial signs or structures or additions to this memorial sign will be allowed on the rights of way. The applicant shall be required to pay a $100.00 fee prior to the fabrication of the sign.
1. Request for Memorial roadside Marker Requests for memorial markers within the State Highway rights of way shall be submitted in writing using the form Request for Placement of Roadside Memorial Marker. In order to be considered, a copy of the accident report must be included with the request. Additionally, a check or money order in the amount of $100.00 and made payable to the Georgia Department of Transportation must be attached. The form, accident report and payment should be submitted to the GDOT State Maintenance Engineer at: One Georgia Center 600 West Peachtree Street Atlanta, GA. 30308.
Requests may be made by next of kin (spouse, child, sibling, parent / guardian, or grandparent) or friends. Requests from friends require the approval of the deceased's next of kin. The requestor will be notified by the State Transportation Engineer concerning the status of the application. The request form, $100.00 fee and accident report will be returned to the applicant if the application is denied.
Again, to request a memorial visit this site: http://mydocs.dot.ga.gov/info/gdotpubs/Publications/6160-9.pdf